The 2018 Winter Olympics remind us how exciting a travel destination Korea is.South Korea has an enviable range of high octane urban, spectacular mountain, beach and countryside destinations, a rich history, culture and cuisine as well as a world-renowned pop culture that rank South Korea among the most unique places in Asia. Visit by land or by cruise ship; the Korean peninsula has several major ports and a long-established maritime lifestyle.
Here's a list of places you'll want to include on a trip to South Korea.
PyeongchangYou may never have heard of Pyeongchang until it was designated host of the 2018 Winter games, but this winter resort area is a natural Winter Olympic host. Its catchy slogan is 'Happy 700 Pyeongchang', referring to the city's 700 meter (2300 foot) elevation in the Taeback mountain region east of the South Korean capital of Seoul.
Photo Credit
As you'd expect, Pyeongchang sees seasonal snow and low enough temperatures to sustain outdoor winter sports. Two resorts in the region attract skiers, boarders as well as off-season mountain hiking. They're the core of the winter games sites, which have also resulted in additional hotel and sports facilities.
Photo Credit
The Olympics brought other advances, too. A new high-speed (250 km/h or 155 mph) train now brings visitors from Seoul in less than an hour and a half. Don't spend all your time on the slopes in Pyeongchang. Take a break for your spiritual wellness at one of the area's notable and historic Buddhist temples.
SeoulSeoul is the 4th most economically powerful city in the world, the hub of its global technology, electronics, and auto industry wealth. Like other large, wealthy Asian cities with extraordinary modernism, high-tech, high-rise Seoul can feel surreal to visitors. The center of K-pop (Korean pop music), entertainment and media, this is a city that never sleeps. (Top Photo Credit)
Photo Credit
Seoul is land-locked and surrounded by mountains. The city was established on the Han river 2000 years ago, and has been Korea's capital for over six centuries. Korea's west-coast port of Incheon is right next door; if your Asia cruise has a call there, you'll be well-positioned to do some 'Seoul searching'.
Photo Credit
Seoul's neighborhoods are landmark destinations in a whirlwind city. Among the skyscrapers, neon, miles of packed arcades and landmark hotels, you'll be immersed in the lifestyle of one of the largest urban centers in the world, Korean style: chic drinks and dinners as well as upscale shopping for local and international brands.
But don't miss the historic and authentic side of Korea in Seoul. Artisan and local craft markets, the Joseon Dynasty palace complexes of traditional architecture, local festivals and religious ceremonies with celebrants in traditional dress are distinctly Korean experiences. The area is home to 5 UNESCO World Heritage sites as well its international design award-winning modern architecture.
Jeju IslandFormed by volcanic eruptions over 2 million years ago, Jeju island is the largest island off the Korean peninsula, 85 km (50 miles) south of the peninsula in the waters between Korea and Japan. Jeju's lava base limited early agriculture and resulted in a unique and pristine ecology that set Jeju apart from anywhere else on earth.
Photo Credit
It also created breathtaking lava formations including one of the biggest lava tubes in the world, nearly 9 km (over 5 miles) long and close to a hundred feet high and wide. Visitors are in awe of the full range of cave architecture like columns, benches, bridges and more. The 7.6 meter (25 foot) column of lava inside is the largest known in the world. The caves are home to exceptional wildlife, including a 30,000 strong colony of bats.
Photo Credit
Jeju is an increasingly popular resort island, with a sub-tropical, humid climate warmer than the rest of Korea and some stunning beaches. The island, historically isolated from the mainland, also has its own cultural, clothing, architectural and language traditions.
BusanSouth Korea's second biggest city, on the south-east coast of the peninsula, is also the country's largest port. Many Asian cruises call at Busan. Like Seoul, it's a fascinating combination of history and tradition on the one hand, and eye-popping ultra-modern urban lifestyle on the other. Shop til you drop at the world's largest department store, and take a wellness break at one of the city's dozens of traditional spas using natural-sourced spring water.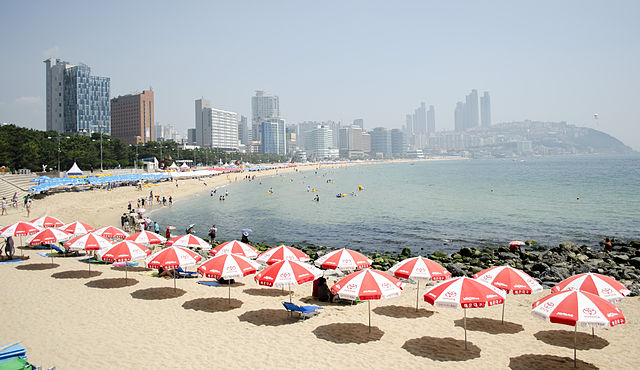 Photo Credit
Compared to Seoul, Busan is blessed with a warmer climate, beaches, and a maritime lifestyle including a renowned fish market, and signature seafood cuisine. Surrounding mountains provide cool air and magnificent vistas over the sea. Many Korean temples are at the tops of mountain hikes, so don't miss one spectacular exception, the Haedong Yonggung Temple on Busan's coast overlooking the Sea of Japan.
Photo Credit
The Demilitarized Zone (DMZ)The DMZ is a 4 km (2 ½ mile) wide no man's land between the two Koreas that spans the entire peninsula 250 km (150 miles) from sea to sea. The DMZ is a very real reminder of the conflict between the two Koreas that remains unresolved today.
Don't let the name mislead you. It's called 'demilitarized', but Korea's DMZ is actually one of the most heavily armed, land-mined, barricaded and patrolled regions of the world. Tours into the DMZ bring the history of the Cold War conflict that split this country into high relief. It also soberly memorializes the lives lost and families separated as a result of the division of the country. Absent human activity in the area, several formerly endangered species have re-established footholds in the DMZ. So there's that small consolation. As an experience of military tourism and reminder of the repercussions of the Cold War that still exist today, Korea's DMZ is unlike anywhere else on the planet.
Photo Credit
The Olympic flame only burns in Korea during the games, but we hope the 2018 Winter Olympics shine a permanent spotlight on South Korea as one of Asia's most unique – and unmissable – travel destinations. Start your Trip!
Copyright BestTrip.TV/Influence Entertainment Group Inc or Rights Holder. All rights reserved. You are welcome to share this material from this page, but it may not be published, broadcast, rewritten or redistributed.